We always have the best time each Halloween poking around the web looking for the most awesome baby costumes. But the truth is, we're busy! While some of you blow our minds putting those sleepless hours to use building outrageous costumes, we know there are tons of ideas for creative DIY baby costumes that you can pull off with a little imagination, some basic crafting skills (or ordering-from-Etsy skills) and maybe even a baby carrier. You don't need pyrotechnics, you don't need a Masters in Electric Circuitry.
Here, 25 truly hilarious, adorably creative baby Halloween costumes that make us go, whoa! Also? Make us feel a little sheepish about those years we just stuck our kids in a store-bought peapod costume and called it a night. – Christina + Liz
DIY iPhone Stroller baby costume (Rookie Moms)
This is so easy and the effect is genius.
DIY Top Gun baby costume for twins (Daily Picks and Flicks)
Oh, Goose and Maverick. We just can't quit you.
DIY Milk and Cookies costume (Wrap Your Baby)
A dad could pull this off too as a "milk man" but then–don't read too much into it.
DIY baby biker costume (Imgur)
Just add a tattoo, some facial hair, and a bandana and you realize that babies kind of look like bikers anyway.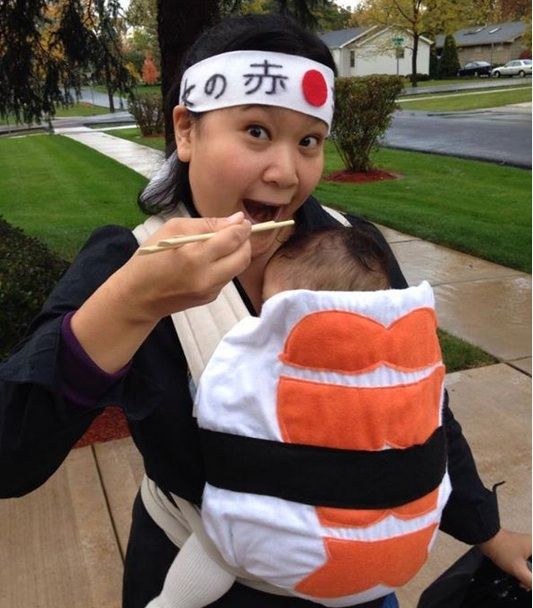 DIY Sushi Chef babywearing costume (Wrap Your Baby)
That baby looks as comfy as a fresh piece of ebi nestled on a bed of rice. Or a bed of Mom.
DIY baby cow costume (Make It & Love It)
It's the bottle nipples that totally make this fantastic.
DIY Baby ET and Elliot costume (Wrap Your Baby)
Especially great if you don't have to get off the bike, while older siblings hit the neighbors' doors themselves.
80's Aerobics Instructor DIY baby costume  (Homemade by Jill)
Apologies if you get "Physical" stuck in your head all day.
 DIY baby Dalai Lama costume (Imgur)
The rebirth of the 13th Dalai Lama, indeed.
DIY baby Prince costume. (College Humor)
Created to scale, perhaps?
DIY Baby Harry Potter costume (Love & Lion)
Don't forget the lightning bolt!
DIY Tetris Game Boy baby costume (Really Awesome Costumes)
An embellished onesie is always a great shortcut to a cute costume.
DIY Baby Strongman costume — or Strongwoman! (PBS Parents)
Of all the traditional circus characters, this one freaks us out less than the bearded lady.
Related: 11 creative group Halloween costume ideas for kids
DIY baby pineapple costume (Lines Across)
If you've got more than one kid, make a whole fruit salad!
DIY Spider and Web mom and baby costume (Built by Kids)
If you're up for dressing up too, this is such a cute way to bring your baby out on the town.
DIY Baby Octopus costume (Costume Works)
This is so easy to pull off if you just stuff 6 extra pairs of socks or high leggings.
Just Released Prisoner DIY baby costume (Costume Works)
Orange is the new gingham.
DIY King Kong baby wearing costume (1337 Mom)
A clever way to carry around your little monkey.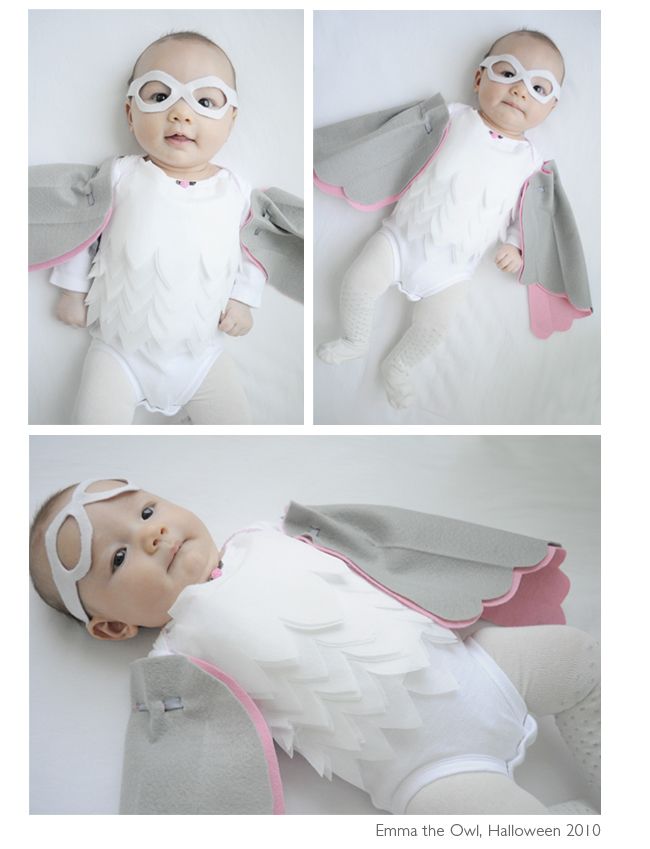 DIY Baby Owl costume (Lifeflix)
While this isn't as easy as a store-bought, the results are so beautiful aren't they? Inspired by this Halloween costume how-to at Martha Stewart.
DIY Box of Popcorn baby and parent costume (This Place is Now Home, via Brit + Co.)
Because once you have a baby, this is the closest you'll get to a movie theater.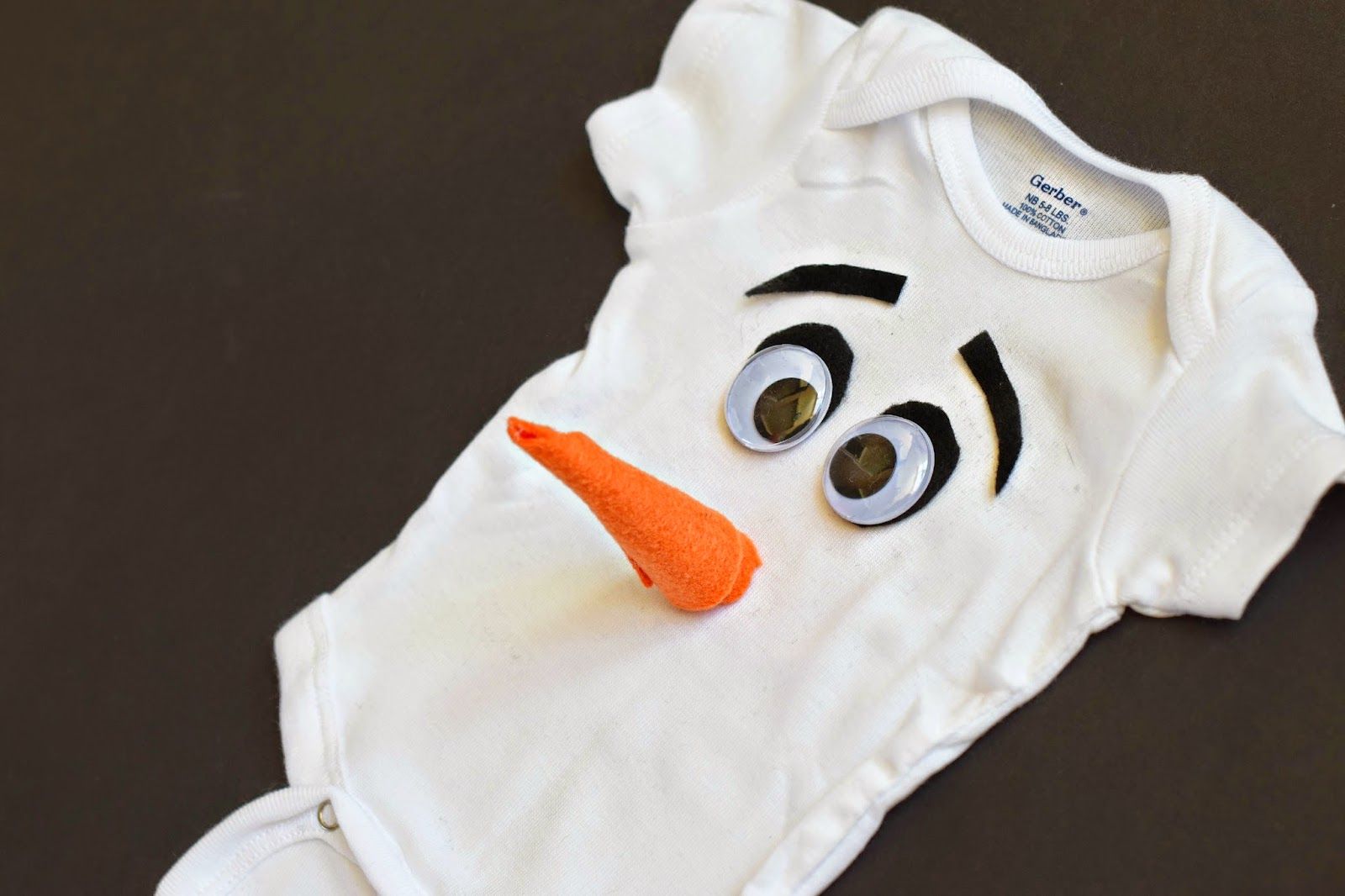 Frozen's Olaf baby costume (Mommy Testers)
Do you want to build a snowman? This is another easy onesie-as-costume; just make sure the pieces stay on tight.
DIY baby Nacho Libre costume (Huffington Post)
So easy to make and oh my lord, that moustache!
DIY baby mummy costume (Super Lucky)
It's just like swaddling. Kind of.
Triplet Stoplight (Triplet Connection)
Well, as long as you have the stroller…
Little Old Lady DIY baby costume (Costume Works)
Still a favorite from last year's roundup of amazing DIY kids costumes and hey, it never gets old. (Pun only slightly intended.)